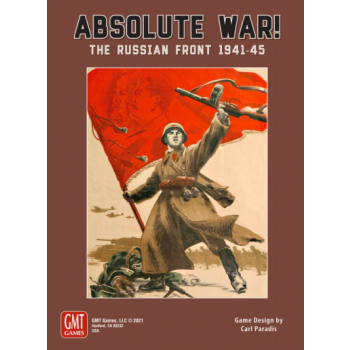 Absolute War!
After tackling the Russian Front with the first game of the No Retreat! Series, wargamer and designer Carl Paradis revisits this fascinating campaign with: "Absolute War! - The Russian Front 1941-45". This two-player wargame recreates the titanic struggle between the invading armies of Nazi Germany versus the Soviet Union in a fresh new way. This new approach is even faster and easier to play - making it perfect for introducing new gamers to the hobby.
With a very low total counter count and density, this quick playing (while still realistic) simulation presents players with deep strategy meriting contemplation. A system of map areas has been adopted and movement has been streamlined. Combat is handled by the two decks of cards (one German and one Soviet) - meaning no combat tables or dice to roll. These cards are the crux of the game system offering even more variety than regular Combat Result Tables
---
Jaa tämä tuote:
This is a preview of the recently viewed products by the user.
Once the user has seen at least one product this snippet will be visible.
Viimeksi katsotut tuotteet